Thanks for visting i ♥ boost .com :)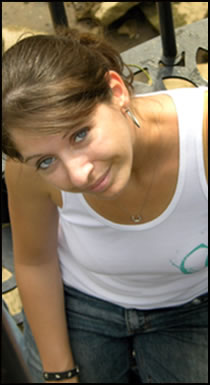 Blog updated: 07/12 - Our Amazing Wedding and Incredible Honeymoon in Germany – Because Racecar!
Hi, my name's Ainsley and I ♥ boost.
I also ♥ horseback riding, I guess you could say I ♥ all things horsepower.
I'm originally from Queens, NY, but lived in Philadelphia for four years
while attending Drexel Universtiy. I also spent a year working in Los Angeles.
I graduated in June 2007 and have relocated yet again to Atlanta, GA.
Ever since I was a child, I've loved two things: horses and cars.
I've been riding hunter-jumpers off and on for the past eighteen years.
I've been working on my 1993 Infiniti G20 turbo for the past nine years.
My friends are my world, I love them more than anything and consider myself
extremely fortunate to have so many wonderful people in my life. I like to travel
and explore and take roadtrips, however, my car is in a constant state
of brokeness. I hate being stagnant and am therefore always trying to find
something new and interesting to try.
I have one of those really great lives where good things just sort of "happen"
to me pretty frequently, and am grateful for it every day.
Please feel free to browse around my site to learn more,
and I hope you have a fantastic day!
-ainsley
If you are interested in hiring me, which would be very awesome, please visit: AinsleyJacobs.com
If you are looking for information about my upcoming wedding, please visit: AinsleyAndErik.com